Season's Highlights
24 CONCERTS
Friday (6 PM) & Sunday (5 PM) concerts are at the Highlands Performing Arts Center
Saturday and Monday concerts (both 5 PM) are at the Albert Carlton Library in Cashiers
Grand Opening Receptions
48 internationally acclaimed musicians
Solo works to large chamber ensembles
Special Events
Feasts of the Festival
Salons at Six
Open rehearsals
Final Gala Concert and Dinner
Board of Directors
Kathy Whitehead, President
Ann Abrams
Susan Belcher
David Blum
Tom Bown
Lynne Browne
Minnie Bob Campbell
Debbie Davidoff
Judy Freeman
Gay Graves
Olivia Holt
Tim Hughes
Frank Langford
Hays Mershon
Keturah Paulk
Dr. Richard Strub
Bobsie Swift
Caroline Theus
WELCOME to our 33rd Festival Season!
The world's greatest music, internationally-known performers, beautifully intimate settings, the cool mountains, fine art and dining, theatre and film, golf, shopping ¬make your plans now to join us for an unforgettable summer at the Highlands-Cashiers Chamber Music Festival as we celebrate our 33d season of chamber music at its best!
Creative programming and extraordinary, internationally-known artists are a signature of our Festival. Our very first event this year will be one of our new "Salon @ Six" programs featuring harp and flute on June 14th. And two very special new programs in June also include "Pictures at an Exhibition @ the Bascom"- Mussorgsky's great masterpiece arranged for String Quintet- and "A Musical Auction at Scudder's" which will feature virtuoso showpieces for violin and cello interspersed with 8 VERY special items to be auctioned off to support the Festival. We also offer our popular annual Picnic Concert at the Zachary-Tolbert House in Cashiers on June 25th to whet your appetite for more to come, with the Smoky Mountain Brass Quintet.
The season proper begins on June 27th with "Beethoven's Fifth"- his fifth cello and violin sonatas, and of course, the 5th Symphony- for an orchestra of 20 fingers at one piano! William and Alexandra Preucil are joined by young star pianist Gloria Chien making her Festival debut. And for the first time we will celebrate the 4th of July weekend with concerts- appropriately, "Musical Fireworks" with the dynamic duo of Julie and David Coucheron.
Other highlights include the Festival debut of cellist Edward Arron performing solo and with the Vega Quartet; "The Poet's Love and Life" featuring Schumann's great "Dichterliebe" songcycle interspersed with readings by Aspen-based poet Bruce Berger; and a brand-new "Jazz Meets Classics" this time, presenting "Sax in the Mountains" welcoming back Will Scruggs, Leo Saguiguit, Gary Motley and pianist Elena Cholakova trading turns with classical and jazz selections for sax and piano. We are delighted the Grammy Award-winning Parker String Quartet will be joining us again, as well as our dear friends the Eroica Trio. Cellist Sara Sant'Ambrogio of the Eroica will stick around and anchor our first "CelloMania" featuring her and 5 other cellists in a program not to be missed.
Whenever we are able to present the Festival Chamber Orchestra, the concerts are always a major highlight of the season - and so our final Gala Concert (and wonderful Dinner after!) on Sunday, August 3rd will feature the Orchestra in our first-ever performance of Mendelssohn's Double Concerto for Violin and Piano. For this final weekend we are delighted to welcome back Tim Fain as soloist whom you can enjoy as violinist in the hit movie "12 Years a Slave". The Gala sold out early last year, so make your plans now not to miss this one!
But wait, there's MORE! We offer one final very special program this summer- a brand-new program called "Country Meets Classics" featuring the red-hot Nashville-based band "Blended 328" joining forces with the Vega Quartet for a wild afternoon of musical fun on August 10. Beer and barbecue included!
These are only some of the highlights of our 33rd season and of course, we offer Festival Feasts, numerous free concerts, and additional Festival events- make your plans NOW to join us in Highlands and Cashiers this summer for another unforgettable Festival!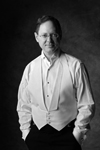 William Ransom, Artistic Director
Phone: 828-526-9060
Email: hccmf@frontier.com
Fax: 828-526-4893
William Ransom
Artistic Director
Nancy Gould-Aaron
Executive Director
Lucas Drew
Artistic Director Emeritus