Season's Highlights
27 CONCERTS
Friday (6 PM) & Sunday (5 PM) concerts are at the Highlands Performing Arts Center
Saturday and Monday concerts (both 5 PM) are at the Albert Carlton Library in Cashiers
Grand Opening Receptions
60 internationally acclaimed musicians
Solo works to large chamber ensembles
Special Events
Feasts of the Festival
Salons at Six
Open rehearsals
Final Gala Concert and Dinner
Board of Directors
Kathy Whitehead, President
Susan Belcher
Tom Bown
Richard Crowell
Judy Freeman
Kendra Haines
Olivia Holt
Tim Hughes
Frank Langford
Dennis Leftwich
Hays Mershon
Kevin Naylor
Martha Pearson
Chuck Ringbakk
Marilyn Staats
Bobsie Swift
A Word from President of the Board, Kathy Whitehead:
A warm welcome to all our supporters and audiences and welcome to all newcomers to the Festival. Thirty five uninterrupted years is a milestone and we are celebrating! Join in the beautiful music, the fabulous venues and all the fun that we share from start to finish in our 2016 season. Hope we see you often!
- Kathy Whitehead
WELCOME to our 35th Anniversary Festival Season!
The world's greatest music, internationally-known performers, beautifully intimate settings, the cool mountains, fine dining and art, theatre and film, golf, shopping--­make your plans now to join us for an unforgettable summer at the Highlands-Cashiers Chamber Music Festival as we celebrate our milestone 35th season of chamber music at its best!
Creative programming and extraordinary, internationally-known musicians are a signature of our Festival, and we have pulled out all the stops for our 35th anniversary. We kick off the season with a Festival first- "Chamber Music in the Garden" at the Atlanta Botanical Garden on Sunday May 15th. In addition to a festive program of Garden music played by the Vega Quartet, enjoy wine and hors d'oeuvres and explore the blockbuster Dale Chihuly Glass Exhibit throughout the Garden. Next, we offer another special not-to-be-missed program, "Champagne and Chopin" in Highlands, with two pianos, on June 26th; and our annual free Picnic Concert is at a new venue this year, the beautiful Kelsey-Hutchinson Park in Highlands on June 29th.
The season proper begins on July 1/2 celebrating both our Founder Lucas Drew and the 4th of July weekend, with a "Founder's Celebration" featuring Schubert's Trout Quintet with David Coucheron, William Ransom and others. Other highlights include the Festival debut of the Cecilia String Quartet, a brilliant Canadian group who are one of the top young Quartets in the world, and I am particularly excited that Russian violinist Roman Kim, who is being called "Paganini reincarnated" for good reason will join us again. You will NOT want to miss the Gary Motley Jazz Trio who will have an evening of their own in "All That Jazz"- one performance only on July 3rd. We welcome back pianists Julie Coucheron and Elizabeth Pridgen for Brahms and Dohnanyi, present an all-new CelloMania II; and the summer would not be complete without our friends William and Alexandra Preucil, the Vega Quartet, and the Eroica Trio among others.
Highlighting the season will be the Festival debut of the Emerson String Quartet- the most acclaimed Quartet in the world- as well as the return of legendary clarinetist Richard Stoltzman.
Special programs will include our Bach @ Buck's programs in Highlands AND Cashiers; additional engaging Salons at Six; and bring the kids (of ALL ages!) to enjoy our Family Concert featuring Peter and the Wolf arranged for duo piano and narrated by the legendary voice of classical radio in Atlanta, Lois Reitzes. An ice cream social will follow to complete the afternoon of fun- all for free!
Whenever we are able to present the Festival Chamber Orchestra, the concerts are always unforgettable - and so our final Gala Concert (and wonderful Dinner after!) on Sunday, August 7th will feature the Orchestra performing Mozart's beautiful Violin Concerto in A with Andres Cardenes, soloist; and we wrap up with a first-ever Festival performance of Beethoven's Piano Concerto #4 in G Major with yours truly taking a bow.
These are only some of the highlights of our 35th season ­and of course, we offer Festival Feasts, numerous free concerts, and additional Festival events- take a look though our website for complete information, get your tickets now, and enjoy the summer!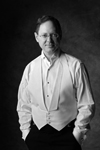 William Ransom
The Anna and Hays Mershon Artistic Director
Phone: 828-526-9060
Email: hccmf@frontier.com
Fax: 828-526-4893
William Ransom
The Anna and Hays Mershon Artistic Director
Nancy Gould-Aaron
Executive Director
Lucas Drew
Artistic Director Emeritus
Tel: 828-526-9060 Email: hccmf@frontier.com
507 Chestnut Street/P.O. Box 1702 - Highlands, NC 28741